CALENDAR
---
Shark Day!
Jul 27 - Friday
All Day
Join us for the 30th anniversary of shark week!
We will be making shark hats and our education staff will even assist you in touching a real shark!
Event is free with children's museum admission.
---
Teachers Only Night at Mobius!
Aug 23 - Thursday
5pm - 7pm

Come to Mobius for a VIP Teachers Only Night! There will be an opportunity to tour both the children's museum and science center, experiment with hands-on activities, meet the Mobius Educators, and enjoy complimentary snacks and beverages! This is a perfect way to help you gear up for the upcoming school year and learn about the STEM-based workshops that Mobius will be offering during the 2018-19 school year! Plus, the Mobius Educators will give a sneak peek of a science show that we perform during our Mobius on the Move experiences!

Space is limited to the first 175 teachers. Please note,this is an adult only event.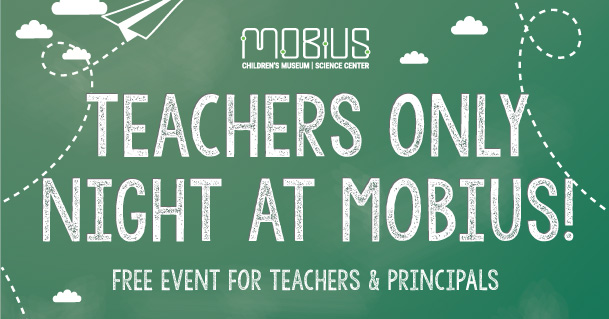 ---
Labor Day~ Children's Museum & Science Center are open
Sep 3 - Monday
10am - 5pm

Happy Labor Day - We are usually closed on Mondays, but we're open today!
---
Member Only - Frog Dissection
Sep 14 - Friday
5:30pm - 7:00pm Mobius Science Center

Ever wondered how a frog can stick its tongue out fast enough to catch a fly? Or how it can jump 30 times its own body length? Discover the answers with Mobius educators as we dissect frogs in the Lab!

Children under 6 must have adult supervision in their group to dissect a frog. One family or up to four people per frog. Space is limited to 10 frogs per session. Please choose one time slot when registering. Session 1 - 5:30pm, Session 2 - 6:15pm.
This event is at Mobius Science Center.