CALENDAR
---
Father's Day at the children's museum
Jun 17 - Sunday
11am-5pm

Dads and kiddos can design, build, and test their own marshmallow bridge together! Plus, all dads, grandpas, and uncles get $2 off their admission today (at the science center too!)!

---
STCU Member Day
Jun 21 - Thursday
10am - 5pm

STCU members can visit Mobius Children's Museum and Mobius Science Center for a free day of exploration and discovery! Show your STCU debit or credit Mastercard at the door, and admission for you and your immediate family will be waived.

Due to space limitations, there may be a short wait if either location is at capacity.

---
Closed for 4th of July
Jul 4 - Wednesday
All Day
Happy 4th of July! – To enjoy time with our families, both the children's museum and science center will be closed today.
---
Teachers Only Night at Mobius!
Aug 23 - Thursday
5pm - 7pm

Come to Mobius for a VIP Teachers Only Night! There will be an opportunity to tour both the children's museum and science center, experiment with hands-on activities, meet the Mobius Educators, and enjoy complimentary snacks and beverages! This is a perfect way to help you gear up for the upcoming school year and learn about the STEM-based workshops that Mobius will be offering during the 2018-19 school year! Plus, the Mobius Educators will give a sneak peek of a science show that we perform during our Mobius on the Move experiences!

Space is limited to the first 175 teachers. Please note,this is an adult only event.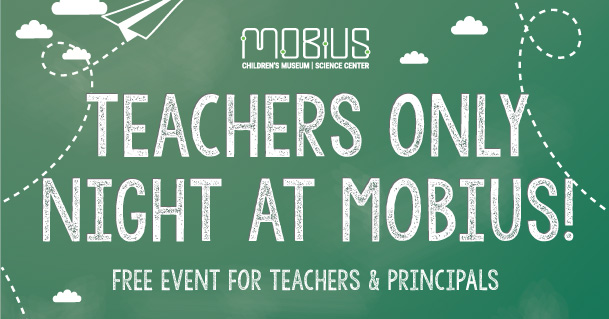 ---
Labor Day~ Children's Museum & Science Center are open
Sep 3 - Monday
10am - 5pm

Happy Labor Day - We are usually closed on Mondays, but we're open today!
---
Member Only - Frog Dissection
Sep 14 - Friday
5:30pm - 7:00pm Mobius Science Center

Ever wondered how a frog can stick its tongue out fast enough to catch a fly? Or how it can jump 30 times its own body length? Discover the answers with Mobius educators as we dissect frogs in the Lab!

Children under 6 must have adult supervision in their group to dissect a frog. One family or up to four people per frog. Space is limited to 10 frogs per session. Please choose one time slot when registering. Session 1 - 5:30pm, Session 2 - 6:15pm.
This event is at Mobius Science Center.