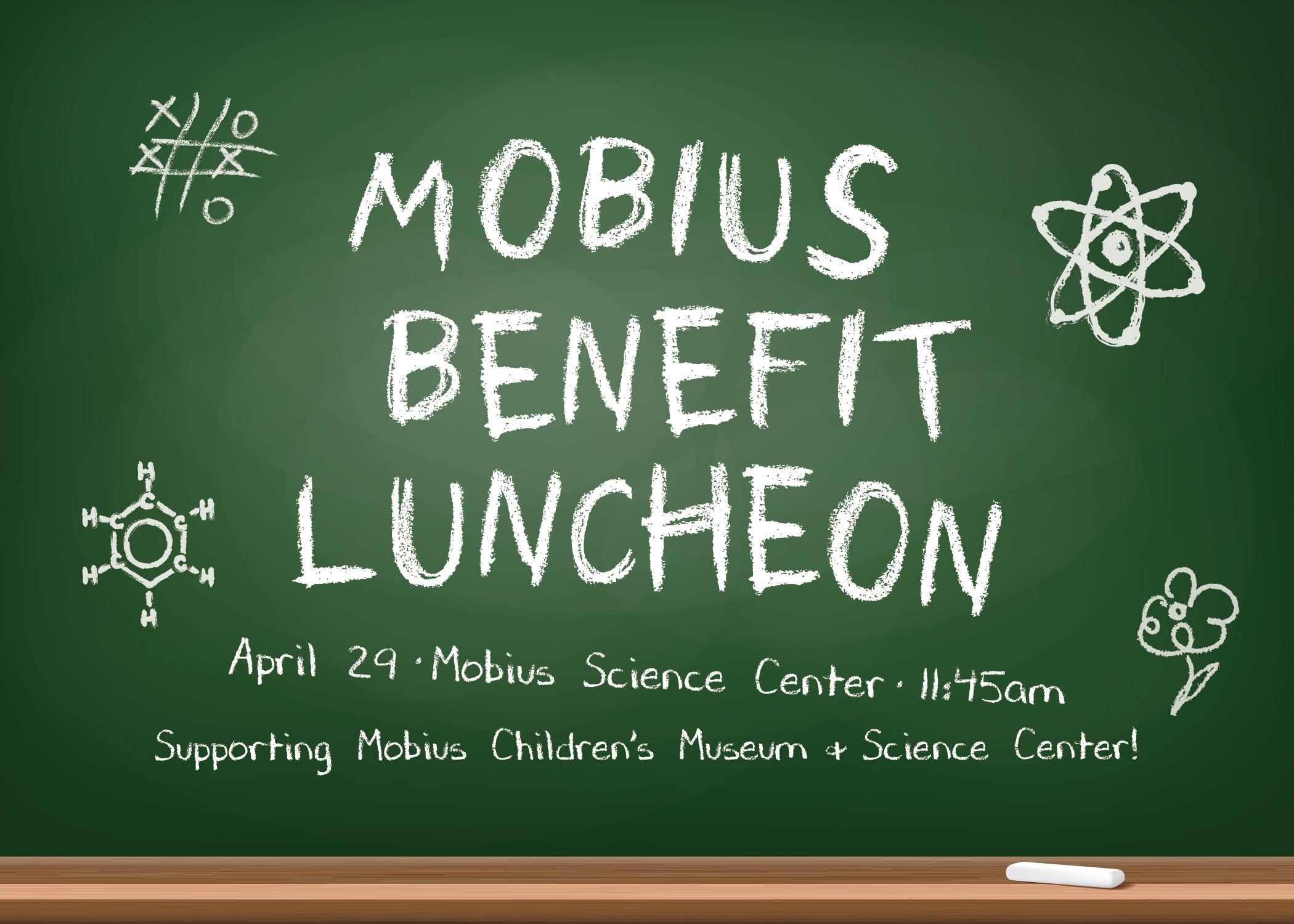 Mobius Benefit Luncheon
You're invited to our lunch fundraiser supporting Mobius Children's Museum & Science Center.
Join us to learn how Mobius is making an impact in our community!
Monday, April 29, 2019
Mobius Science Center, 331 N Post St
Doors open at 11:45am, lunch + program will run from 12:00 - 1:00pm
There is no charge for the lunch, but you will be asked to make a donation to help Mobius spark curiosity and ignite imaginations!
---
Sponsorship Opportunities
Presenting Sponsor $5,000
Recognition as Presenting Sponsor in all event promotion, event program, and during the event.
2 reserved tables (16 seats), Includes Mobius Society Benefits
Supporting Sponsor $2,500
Recognition as Supporting Sponsor in all event promotion, and during the event.
1 reserved table (8 seats), Includes Mobius Society Benefits
Table Sponsor $1,000
Recognition as a Table Sponsor in event program and table signage. 1 reserved table (8 seats)
Donate
The time is now! Create a lasting legacy and donate to help us inspire lifelong learners in our community and throughout the region.

The Mobius Society recognizes and honors donors who have made significant contributions for the advancement and support of the Mobius mission. In return, members of the Mobius Society receive benefits and recognition.
YOU MATTER! It's only through the continued financial support of our dedicated donors that we can fulfill our commitment to invigorate minds, inspire careers, and instill wonder in lifelong learners through hands-on exhibits and dynamic programs.
To learn more contact our CEO, Karen Hudson, at 321.7125 or khudson@mobiusspokane.org
Individual Donors
Corporate Donors
Thank You For Supporting Mobius!
Amalie & Steve Day
Angela Lockwood & Deane Osterman
Anne & Stacey Cowles
Anthony & Mary Lou Bonanzino
Avista Corp.
Berg Companies
Boise Cascade
Charles & Cathy Simon
Charlotte & Donald Lamp
Cheryl & Tim Kilday
Copenhaver Construction
David & Laura Gruber
Farkas Family Foundation
Francisco Velazquez
Frank & Barb O'Neill
Fritz & Katie Wolff
Harriet Goebel
Hecla Charitable Foundation
Hoopfest Spokane
Hotstart, Inc.
Idaho Forest Group
Allan and Mearle Roy Endowment Fund at

Innovia Foundation
Jewett-Gill Donor-Advised Fund

at

Innovia Foundation
Itron, Inc.
Jack & Lisa Heath
Jackson Dean Construction
James F. Karel
Jesse & Sara Wolff
Jim & Lisa Quigley
John & Lori Moloney
Kaiser Aluminum
Kalispel Tribe of Indians &
Northern Quest Resort & Casino
Larry & Debbie Swartz
Larry H. Miller Foundation
Larry Larison
Mark & Victoria Russell
Marty Frazier
Max J. Kuney Construction
Neil & Dawn Worrall
Numerica Credit Union
Patti & Jerry Boyd
Peter & Maggie Bentley
Potlatch Deltic Corporation
River Park Square
Robert & Sandra Harris
Ryan & Shelly Krasselt
Sarah & Dennis Beemer
Schweitzer Engineering Laboratories
Shelly Kuney
South Hill Pediatric Dentistry
Spokane Association of Realtors
Spokane Eye Clinic
Spokane International Airport
STCU
Steven & Theresa Helmbrecht
Terry & Janet Goebel
Tom & Molly Beil
Tom & Tamara Bryant
Tom Simpson
Varian Partners in Giving
U.S. Bank
University of Washington
Vaagen Brothers Lumber, Inc.
Washington Trust Bank
Wells Fargo Bank
Willamette Dental Management Corp.
Zak Designs